First aid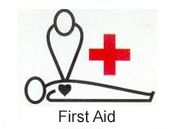 The acquired First Aid knowledge will help you feel confident in difficult life situations.
• First Aid skills are easy and accessible to everyone. Having got them, you become an essential part of acute care chain.
• A completely different training approach. The program is adapted to any category of participants.
• First Aid skills are concurrent with the modern health care requirements. The program is approved by the Russian Federation Ministry of Public Health.
• If you know First Aid, you will be able to save lives, as well as help yourself and your family.
• "First Aid" Training Course can be delivered in your office for groups of 12-16 participants.

 The length of the training course is 16 hours.
 The participant's fee is 1,500 rur.
 The exclusive "First Aid" handbook is included.
 You are guaranteed a European standard certificate at the end of the training course.

"First Aid" Training Course will help you act in most of emergencies, alleviating pains and sufferings, decreasing conseqences of injuries, and saving lives.
Contact - 43-67-57